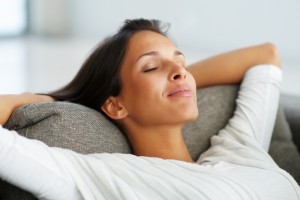 Every year, millions of people avoid going to the dentist for one reason or another. Often, anxiety is the root cause. Sedation dentistry is a great way for dentists to help ease anxiety, but not every case of anxiety is so severe that it requires sedation dentistry. Sometimes, it's just a matter of a patient feeling more comfortable with his or her surroundings, as if they were visiting a friend's house instead of a dental office.
At South Shore Dental Care, that's exactly the feeling we want our patients to have. We want to create a warm and inviting feeling in others. To that end, we've included big screen TVs, personal headphones, and WiFi in our office.
We've included each one to make our North Massapequa office feel less like a medical facility and more like a home away from home. You can enjoy the Internet on your smartphone or tablet while you wait in our comfortable lobby, and during your appointment, you can enjoy listening to music as Dr. Dory Stutman or Dr. Khalida Stutman gently helps you coax your smile back into dazzling shape.
Luxurious amenities aren't the only way we're helping patients have easier, more comfortable visits, though. In our next post, we'll take a look at some of the advanced technologies we're also using. Until then, if you're ready to experience our amenities firsthand, call our North Massapequa office to schedule an appointment. Drs. Dory and Khalida Stutman serve patients from New York City, Manhattan, Long Island, Merrick, greater Nassau County, and surrounding areas.