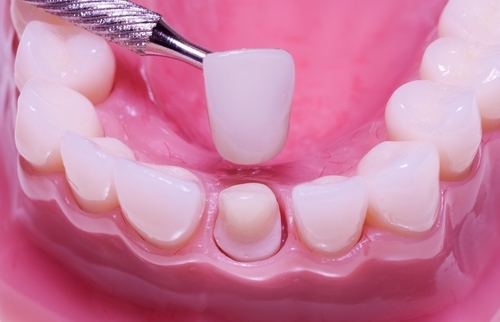 Problem: You need a filling or crown to restore a decayed or structurally unsound tooth, but you want to maintain your smile's all-important, all-white appearance.
Solution: Functionally esthetic dental restorations from South Shore Dental Care!
In the past, dark-colored metal was a primary component of amalgam dental fillings. Most crowns were made of precious metals. We've come a long way! Dr. Dory Stutman and Dr. Khalida Stutman apply tooth-colored fillings and all-porcelain crowns that blend seamlessly with natural teeth to create stunning smiles. No more dark, unsightly restorations that preserve teeth but let everyone know that you've had dental work. Your smile is a crucial component of your appearance and self-image. The South Shore dental team will make it look fantastic!
Tooth-colored fillings are made of durable, long-lasting composite resin that delivers unsurpassed strength and protection. Your Massapequa cosmetic and restorative dentist will custom-tint the resin to match your existing tooth color, then bond it in place to restore beauty and function. Composite resin resists decay, so your tooth will stay strong and healthy for years to come.
An all-porcelain crown looks and feels natural and restores form and function to a cracked, broken, or badly decayed tooth. Dr. Dory Stutman or Dr. Khalida Stutman will meticulously design your crown, and a skilled ceramic artist at a leading lab will fabricate it from high-quality dental porcelain that mimics real tooth enamel. Once in place, your restored tooth will look, feel, and perform better than ever!
So, if you need a filling or crown, don't worry – you're smile is in good hands at South Shore Dental Care. Call our prestigious Massapequa dental office today to schedule an appointment with Dr. Dory Stutman or Dr. Khalida Stutman, leaders in functionally esthetic dentistry.