Implant-Retained Bridge – Massapequa Park, NY
Stabilize Your Bridge with Dental Implants
Despite the latest innovations in dentistry, tooth loss is still a common problem for many Americans. If you're among those who have lost two or more teeth, you now have more options than ever to rebuild your smile. As an alternative to a fixed bridge or partial, you can support your restoration with dental implants. An implant-retained bridge in Massapequa Park allows you to enjoy the next best thing to your real teeth for a true investment in your smile.
Two Consecutive Missing Teeth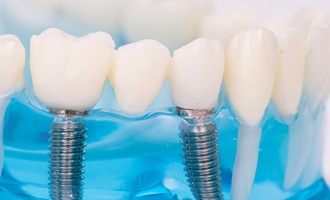 Traditionally, two missing teeth in a row are treated with a fixed bridge. Prosthetic teeth are carefully crafted to replicate those you've lost. Your adjacent teeth are reshaped to allow dental crowns to be placed over them to hold the bridge in place. Although this is effective, it only provides a short-term solution, and you'll need to permanently alter healthy teeth.
As an alternative, your bridge can be supported with a dental implant. A titanium post is surgically placed into your jaw to act as a new root while also securing your bridge to your bone. You can enjoy a solution that can last for decades without need to change healthy teeth.
Three or More Consecutive Missing Teeth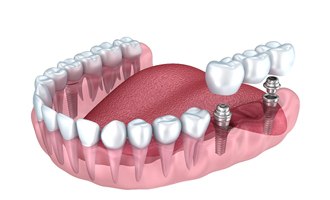 Dental implants in Massapequa Park can also support a bridge that replaces three or more consecutive missing teeth. A post is used at either end of the bridge to support it. This preserves your jawbone's density to stop dental drift. Not only will you enjoy a complete smile again, but you'll also give your remaining natural teeth the support they need to stay in place.
Several Missing Teeth
Several missing teeth are often replaced with a partial denture. It features prosthetics in a gum-colored base that has a metal framework to clip onto your natural teeth to hold it in place. Although it is effective, a partial denture will always have its limitations.
Dr. Stutman can rebuild your smile using implant-retained prosthetics if you've suffered significant tooth loss. You may need a combination of implant-supported bridges and single unit implants depending on how many teeth you're missing. You'll enjoy unmatched stability that's not possible with a traditional partial, so you'll never need to worry about any slipping or irritation.
Benefits of Implant-Retained Bridges
Supporting your bridge with dental implants allows the posts to act as tooth roots. This provides exceptional advantages over traditional treatments, such as:
Over a 95% success rate to last for several decades.
Regain as much as 70% of your natural biting force.
Looks natural to smile confidently.
Doesn't alter healthy teeth.
Preserves your jawbones density.
Supports your facial tissues for a youthful appearance.
Easy maintenance and care.
Long-term, cost-effective solution.
Schedule an Appointment Today!
You don't need to live with an incomplete smile. Dr. Stutman can bring new life to it by replacing your missing teeth with dental implants. Contact our office today to schedule your consultation for an implant-retained bridge.