How Dental Implants Work – Massapequa Park, NY
Your Journey to a Fuller Smile
Dental implants in Massapequa Park are truly in a class of their own when it comes to tooth replacement. Not only do they promote better oral and jawbone health, but they're incredibly easy to maintain and can last for decades, possibly even the rest of your life. But what exactly does the process entail? Keep reading below as we explore every step of the way, from your initial consultation to the moment you see your brand-new teeth smiling back at you in the mirror. Contact us today if you have any questions or you would like to schedule a consultation.
Initial Dental Implant Consultation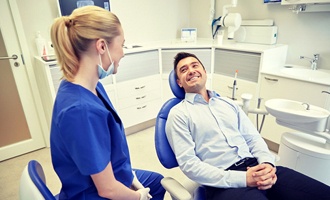 During your implant consultation with your dentist in Massapequa Park, our team will conduct a thorough evaluation of your mouth. We'll also ask you about your habits, goals, and overall health and answer any implant questions you may have. We'll inform you of the specific steps you need to take on your journey to a fuller smile. Some patients require preliminary procedures, like a bone graft or periodontal therapy, before they can receive dental implants. Others can proceed directly to the implant placement surgery.
Dental Implant Surgery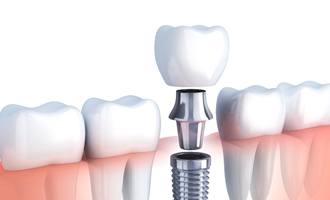 We can perform your implant placement procedure right here in our office, so you don't have to be referred to an outside specialist. In this minimally invasive procedure, we will create a small incision in the gum tissue and strategically insert the implants throughout the jawbone. We'll make sure you feel minimal discomfort during the procedure, thanks to sedation and local anesthetic. Once the implants have been placed and the incision is closed, your body will start the process of osseointegration.
Dental Implant Osseointegration & Abutment
"Osseo" means "bone," so osseointegration refers to your jawbone growing around and becoming one with your implant posts over a period of a few months. The implant will essentially become a part of your own anatomy, creating a sturdy bond that will stand the test of time. After osseointegration is complete, we'll place an abutment over your implant. An abutment is a metal connector piece on top of which we can place your implant-retained crown, bridge, or dentures, depending on how many teeth you're missing.
Placement of Dental Implant Restorations
The last portion of your implant journey is the most exciting – it's when you receive your brand-new teeth! We will design a custom-made restoration that will attach to your abutments. Once your prosthesis arrives to our office from the dental lab, we'll give you a call to let you know that your new teeth are ready to be a part of your smile. At your appointment, we'll make sure your restoration provides you with a comfortable, powerful bite and adjust it as needed. Then, you can go out and live your life with all the benefits of a smile restored by dental implants in Massapequa Park.