Dental Implant Technology – Massapequa Park, NY
Using the Right Tools for the Job
Accuracy is very important when it comes to dental implant placement; the posts need to be in the right spot that allows them to fuse with the jawbone without complications and allows the new tooth to fit neatly into your smile. At South Shore Dental Care, our dentists take advantage of cutting-edge dental technology to help the process run as smoothly as possible. Contact our office today to learn more about how we handle dental implants in Massapequa Park.
Cone Beam CT Scanning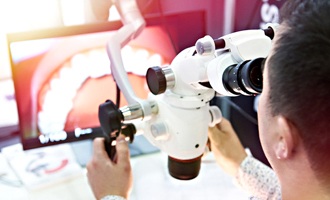 A traditional X-ray sometimes doesn't give us all the information we need, which is why we use dental cone beam CT (computed tomography). A special X-ray machine rotates around your head and creates up to 200 high resolution images of the inside of your mouth at multiple angles. We can combine these images using a special software in order to create a 3D digital model of your oral cavity. This allows us to examine in great detail the various dental structures, soft tissues, nerve paths and bones that could all influence the success of dental implants. The scans are safe and comfortable; no radiation is left in the body afterwards.
This technology allows for extremely accurate dental implant placement and allows us to plan for potential obstacles ahead of time. For example, we might find a nerve that's close to the implant site; damaged nerves are a major cause of dental implant failure. With the model create by cone beam CT, we can avoid this complication. As a result, procedures that use cone beam technology tend to be more successful than those that rely on traditional X-rays.
Surgical Microscope
Dental implants are 3 to 6 millimeters in diameter, and these tiny posts need to be inserted into your jaw at just the right spot. For patients with particularly small mouths, this does not leave much room for error. Luckily, it's easier to work in such a small space when we use a surgical microscope. This device gives us a clear view of the working area and allows us to completely focus on the task at hand while still allowing us to stay in a comfortable position. The enhanced visualization is especially useful when the gap between your teeth is very small.
There are other applications for this device as well. For example, we can use it to make sure that the crown, bridge or dentures that your dental implants support fit properly; if your prosthetic teeth are the wrong size, it could lead to discomfort and unnecessary damage down the road. The microscope can also alert us to unhealthy marginal tissues around the implant site; that way, we can treat infections and other problems before they can disrupt the dental implant integration process.