Dental Implant FAQs – Massapequa Park, NY
Get the Answers You Need Today!
Now, dental implants in Massapequa Park are the patient-preferred solution to treat tooth loss because they closely look and feel like your real teeth. By replacing both the root and the crown, you can enjoy several advantages that are not possible using other solutions. We know you are excited to get started rebuilding your smile, but we understand you have several questions. We have the answers to your top questions about dental implants so you can feel secure in your decision.
How many teeth can dental implants replace?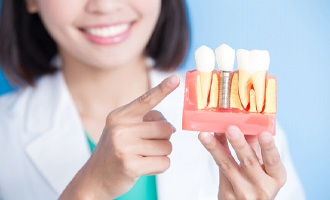 It is commonly believed you can only replace a single tooth, but this is not true. Dental implants can treat all cases of tooth loss if you are a candidate; however, the treatment process varies slightly. A single tooth is treated using an implant post, an abutment, and a crown. If you are missing several or all your teeth, each tooth is not replaced individually. Instead, a specific number of posts are used to anchor your bridge or denture to your jawbone.
Can I still get dental implants if I lost bone density?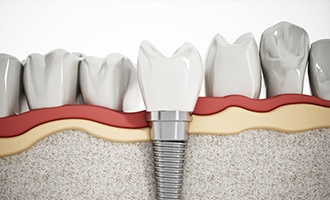 The long-term success of dental implants relies on your jawbone's ability to fuse to the post. As a result, they are not the right solution for you if you have lost bone from untreated tooth loss or periodontal disease, but that does not mean you cannot become a candidate. Bone grafting will enhance the density of your bone so you can benefit from dental implants. We will determine if you have adequate bone density upon reviewing your CT scan during your initial consultation.
How long does it take to heal from dental implants?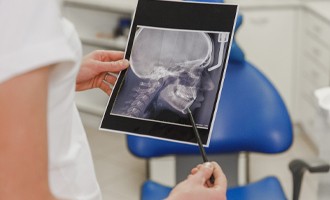 Your treatment is performed in multiple stages, which is necessary to ensure the success of your smile. You may need additional procedures before getting started, like tooth extractions or bone grafting. The first step involves surgically placing dental implants into your jawbone. The surgery is performed in a single day, but you will need to spend the next several months healing. The implant posts stimulate new bone growth, allowing your jaw to fuse to them through a process called osteointegration.
After your jawbone is healed, you need a second minor surgery to place your abutments. These special fixtures connect your restorations to your posts. Often, it only takes a few weeks for your gum tissue to heal before your custom-made restoration can be attached.
Can dental implants fail?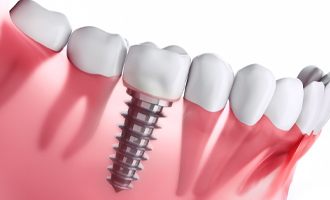 Dental implants are the most successful tooth replacement option, but they can fail. Generally, the risk of implant failure is less than 5%. You can help to ensure your new smile lasts by choosing a qualified and experienced dental team to handle your procedure. You can protect your investment by maintaining your oral hygiene at home and avoiding tobacco. Do not forget to visit your dentist at least twice a year for a cleaning and checkup.
Still Have Questions?
Your dentist in Massapequa Park takes the time to explain your treatment process and answer your questions during your appointment. If you still have questions, do not hesitate to contact our office.