Implant-Retained Dentures – Massapequa Park, NY
Enjoy A Secure New Smile
Over 30 million Americans wear dentures, but while the traditional kinds will still allow you to eat and speak normally, implant-retained dentures in Massapequa Park are far more stable and do not slip in your mouth; the improved strength and comfort helps them feel much more like your natural teeth. If you need to replace all of your teeth at once, contact our office today to ask whether dentures are a good fit in your case.
How Do Implant-Retained Dentures Work?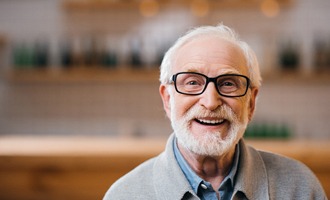 Normally, dentures sit directly on your gums but they can also be anchored in place by implant posts. Dental implants are made of titanium and have joined with the jawbone through osseointegration. Because of this, implant-retained dentures replace both the visible parts of your teeth and the roots that supported them. These replacement roots stimulate the jawbone, preventing it from breaking down and helping it maintain density. As for your dentures, the security of the dental implants means you don't have to worry about them moving at awkward moments, such as when chewing or speaking to others.
Am I a Candidate for Implant-Retained Dentures?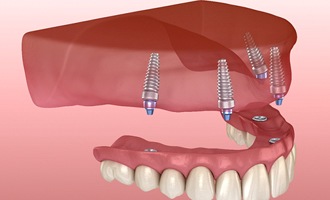 You will need full dentures to replace an entire arch of teeth. If you want them to be supported by dental implants, your jaw will need to be dense enough for osseointegration to be successful. If your jaw has already lost some of its density, we might be able to use bone grafting in order to restore it. Gum disease also needs to be addressed before we can begin the surgery. If you smoke, it could cause complications, but if you follow our directions, you could still potentially be a candidate for dental implant placement.
The Implant-Retained Dentures Procedure
We will first need to arrange a consultation visit so that we can evaluate your oral health as well as your needs. At that point, we can start planning the necessary procedures, which might include bone grafting or periodontal therapy to make sure the jaw is prepared. During the implant placement surgery itself, we will surgically insert 4 to 8 implant posts into your jaw. After that, it will take 3 to 6 months for osteointegration to occur. Once we're certain that your dental implants have successfully fused with the jawbone, we can place your permanent full dentures.
Benefits of Combining Dentures & Dental Implants
The dental implants will help you preserve your jawbone density and maintain bone height.
With the additional stability of implants, your new teeth will have chewing power that's almost the same as natural teeth; this means that you'll be able to eat anything you want.
Your new dentures will be designed to look and feel as natural as possible in your mouth. Many people will not be able to tell the difference.
A dental implant can last for 30 years or even the rest of your life if you take good care of it.